Come wintertime, turning on the furnace to keep the house warm is standard practice, even in Florida. Still, did you know that the furnace actually plays a role in air conditioning as well? While a furnace is the central agent to blowing out warm air, it also takes in air from the AC system before recirculating it. So, when the furnace breaks down, it can affect your central AC unit as well.
If your furnace has reached the end of its lifetime, you can look to Joe Hillman Cooling & Heating for Davie furnace replacement services. Our sales representatives can discuss which models we sell and go over factors you're looking for in choosing a new furnace for your home in a consultation. We have years of experience providing property owners in southern Florida with professional heating services. Our team has handled furnace replacements for all types of residential and commercial properties throughout the Davie, Port St. Lucie, and Miami areas over the years. You get estimates for free, and we install the furnace for you.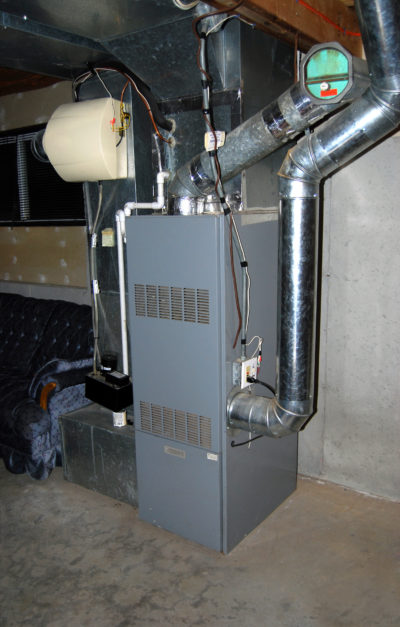 How to Know When You Need a New Furnace
Within the HVAC industry, it's recommended that you have a technician perform an annual maintenance check on your furnace for preventative measures. In doing so, they can spot any issues before they worsen or become a safety hazard.
However, in some cases, your furnace may already be showing signs that it needs to be replaced. The following are some major signals that you should consider replacing your furnace before it breaks down completely.
Your Furnace is More Than 15 Years Old
The average lifespan of a furnace is 15 to 20 years. Per ENERGY STAR, once a furnace or boiler reaches 15 years of age, you should consider replacing it, especially as it loses energy efficiency. Once a furnace begins to expend too much energy to function regularly, it can become overloaded and lead to mechanical failure.
At Joe Hillman Cooling & Heating, we sell ENERGY STAR-certified products, which are more energy-efficient than conventional HVAC products. Regarding furnaces, ENERGY STAR-certified furnaces are 15 percent more efficient in energy usage.
Your Furnace Shows Visible Signs of Aging
Signs of aging in a furnace include:
Cracks
Rust
Peeling and other signs of wear
Leaks and other moisture
Cracks could indicate that the structural stability of the furnace may be degrading, while leaks or excessive moisture buildup could lead to electrical issues or furnace failure if not dealt with. These are common signs that the furnace may be at the end of its lifetime and should be replaced before becoming a safety hazard in the home.
There is Dust and Other Particle Buildup
People should clean their furnaces at least once a year to avoid buildup, but many do not. As more dust builds around the furnace, this can cause clogging, which can disrupt the air conditioning and heating process.
One way to note dust buildup is if you smell a burning aroma from the ventilation system when you turn on the heater. This indicates that you have too much dust. If paired with other mechanical issues, you may want to have an HVAC specialist from our team check out your heating system to see if it can be repaired or should be replaced.
Your Energy Bills are Becoming More Expensive
A major sign that you need to replace your furnace lies in the patterns of your energy bill. If you notice a spike or an increasing trend of paying more for your energy usage, your furnace may be to blame. You may need to consider whether repairs can remedy the problem or if it is more cost-effective to upgrade to a more energy-efficient model.
Your Furnace is Failing to Heat Your Home Evenly or is Disrupting the AC Process
If your furnace fails to heat your home properly, it may indicate that the unit is no longer able to produce enough energy to reach the rest of your home. Alternatively, if you notice issues with airflow from your air conditioner and there are no signs from your AC that there is an issue, your furnace may be disrupting the AC process.
In many homes, the furnace and air conditioner are connected through several means, in that they both work with the fan blower, compressor, thermostat, and condensate line, among other parts. If there is a failure in your furnace, it can lead to a disruption in your central AC unit.
You are Constantly Making Repairs to Your Furnace
If your furnace is requiring yearly or even seasonal repairs, you may want to plan out the costs for purchasing a new unit. Our sales representatives can work with your budget and energy goals and help you with your furnace replacement. One of our HVAC technicians can then install the new furnace in your Davie home.
Other Heating Systems are Available Besides Furnaces
You may find that an entirely different heating system might be more suitable for your home than a furnace. If so, our sales representatives can explain other heating system units we sell and work with throughout South Florida.
Electric Heating Systems
Electric heating systems can be a good alternative if your home does not have a natural gas line and you would like to save some money on installation. Some examples include:
Electric furnaces
Boilers
Radiant heating systems
Electric baseboards
Heat Pump Systems
Heat pump systems serve as a two-in-one function, in that they provide air conditioning and heating services. For some people, this can be a more energy-efficient option. Some examples include:
Standard heat pump systems
Geothermal heat pump systems
Hybrid heat pump systems
Joe Hillman Cooling & Heating can help you replace your furnace
If your furnace is causing you multiple problems and isn't heating your home as effectively as it once did, it may be time to get a new one. At Joe Hillman Cooling & Heating, we offer different furnace replacement options to residents and business owners in Davie. Whether you want a new furnace or would like to try an alternative heating option, we've got a heating system for you.
Call Joe Hillman Cooling & Heating at (954) 238-5479 today to receive a consultation with one of our sales representatives and get a free estimate today.
Contact Us Online
WE'LL BE IN TOUCH AS SOON AS POSSIBLE. IF THIS IS AN EMERGENCY, PLEASE CALL 954-953-1795