Electric heating systems are an alternative to furnaces and other heating options that rely on natural gas. There are pros and cons to electric heating systems, so if you are interested in installing one in your Davie home, one of our sales representatives can go over the models we carry and our installation services in a free consultation with you.
At Joe Hillman Cooling & Heating, we also provide Davie electric heating repair services. Whenever your heating unit needs maintenance, one of our HVAC technicians can visit your home or business and perform the necessary repairs. We guarantee to satisfy your heating and cooling needs or your money back.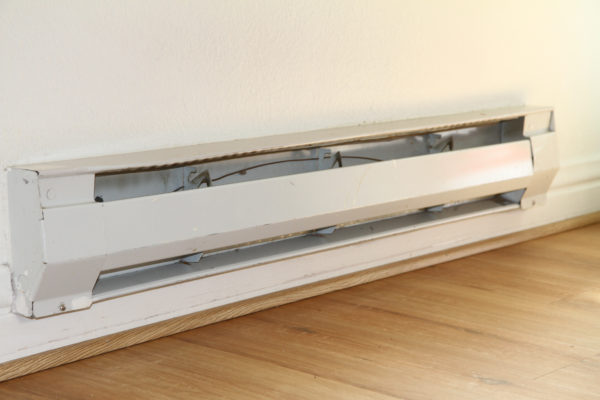 The Different Types of Electric Heating Systems Available in Florida
Whether you want to power your home down by the Davie ranches or your business off I-595/State Road 84, there may be an electric heating system right for your environment.
The following are common types of electric heating systems:
Electric Furnaces
Some furnace models can be powered by electricity instead of natural gas. They are smaller than standard furnaces, using only an electric heating element and blower fan. While they can be more expensive to run than a standard furnace, they are much safer inside the home since they do not have a combustion process.
Electric Baseboard Heaters
Electric baseboard heaters distribute warm air throughout the house. Heat rises to the top while cool air rests at the bottom. Some baseboard heaters also use hot water to heat a room. These heaters can be mounted along the walls.
Electric Wall Heaters
Electric wall heaters are true to their name in that they can be lined up against the wall, usually on the ground. They are quick to heat up an environment and, depending on the model, can last up to 20 years.
Electric Radiators
Electric radiators use a combination of convection and radiation heat powered by electricity. They heat up quickly and cool down at a slower rate, which can help you save costs for energy usage.
Infrared Panels
Infrared panels are one of the latest versions of electric heating, allowing homeowners to mount these systems on the wall or the ceiling to warm up their homes. These systems use only radiation heat, so heat can last for a long time throughout the building.
They are also more energy-efficient; however, this means it can take longer for them to heat up their environment, which can be a drawback for those who want to feel heat faster.
What are the Advantages of Electric Heating?
If you are unfamiliar with electric heating systems, below are some of the advantages of this style of heating. Some of the advantages of electric heating systems include:
Electric Heating Systems are Less Expensive than Other Types of Systems
When shopping for heating systems, you may notice the price to purchase an electric heater is often cheaper than a furnace. This is due to the type of equipment these systems require, which is often less than furnace- or boiler-type systems.
Electric Heating Systems Take Up Less Space
Depending on the type of electric heater you purchase, it might not require the same dimensions you would need to keep a furnace. Some can line up against the wall, while others are more compact and fit near other equipment in the house.
Electric Heating Systems Make Less Noise
These types of systems do not use the same equipment as furnaces and boilers, so there are fewer moving parts to produce sound.
Placement of Your Heating System
You can control which rooms you want to heat up by placing the electric heating system there. This allows you to have better control over the temperature of your house and gives you an opportunity to customize your living environment.
Electric Heating Systems Can be Safer
Because these systems do not have a combustion process and use electricity to generate heat in the house, they can be safer in that there is less risk of explosion or air contamination.
What are the Disadvantages of Electric Heating Systems?
Some of the disadvantages of electric heating systems include:
Electric Heating Systems Can be More Expensive in Energy Costs
Depending on the rate for your electricity, it might be more expensive to power your electric heating system than if you used natural gas to power a furnace.
Electric Heating Systems Cannot Provide Central Cooling, Filtration, or Humidification
As mentioned, these systems do not use the same equipment as furnace systems and are not an all-in-one HVAC system. Therefore, you would need to buy other systems to provide cooling, air filtration, and humidification services.
Electric Heating Systems can Become a Fire Hazard if Left Unattended
Because these systems rely on electricity, there is the potential to cause shock or fire in the home, as with most home appliances. Residents should avoid having anything rest on the heating system that could cause a fire and always turn off the system when leaving the home unattended.
Our Technicians are Available for Service Whenever You Experience an Emergency
If your electric heating system ever breaks down unexpectedly, Joe Hillman Cooling & Heating offers emergency repair services, which include:
Local repair service from one of our HVAC technicians, who are on call 24/7
Heating, ventilation, and air conditioning repair services
Whether it's day or night, in or out of business hours, and even the weekend, our team of HVAC professionals is ready to go to your home or business and repair your electric heating when necessary. We offer affordable prices to fix your heating system and can also discuss estimates for new or alternative heating options in case you need to replace the unit in your building.
Call Joe Hillman Cooling & Heating to install electric heating in your Davie home
Interested in installing an electric heating system in your home? Our climate control professionals at Joe Hillman Cooling & Heating can provide installation services after you go over which system you want with one of our sales representatives. You'll get free estimates during your consultation and learn more about what services come with your warranty, including repairs.
Call (954) 238-5479 to schedule an installation or maintenance appointment with one of our technicians today. We serve residents in Davie and other cities in South Florida
Contact Us Online
WE'LL BE IN TOUCH AS SOON AS POSSIBLE. IF THIS IS AN EMERGENCY, PLEASE CALL 954-953-1795