When we're spending time indoors in South Florida, we're usually cooling off in the air conditioning, enjoying a break from the hot weather. We likely aren't thinking about the quality of the air we're breathing while inside, but we probably should. Recycled indoor air is usually not the freshest, but technology exists that will purify the air in our indoor environment.
If you want an air filtration system installed in your home or business, or if your current system requires maintenance or repairs, Joe Hillman Cooling & Heating is ready to serve you. We provide air filtration in Davie and throughout South Florida for homes and commercial buildings. We will advise you on a system that can get you on your way to breathing cleaner air while you're enjoying the AC. We stand by all of our work with a 100% money-back guarantee.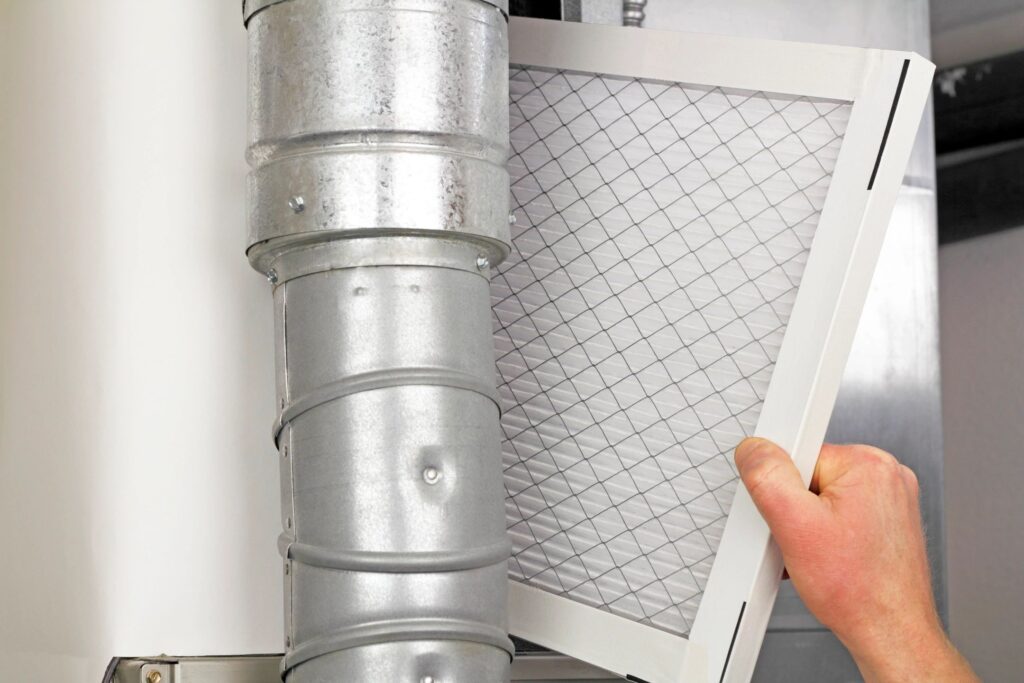 How an Air Filtration System can Benefit Your Home
Air filtration is often overlooked until a problem becomes too big and costly to ignore. You may notice a lingering odor or smell that won't go away or that you are often fighting allergy symptoms. You may be dusting your furniture or plants more often because of all the particles that collect on these surfaces. These are signs to take a closer look at the air filtering system in your home.
The indoor air we breathe is generally of lower quality than the fresher air circulating outside. The U.S. Consumer Product Safety Commission (CPSC) reports that people spend 90% of their time inside, which means they are at greater risk of suffering allergies, irritations, and other ailments.
Why is indoor air so unclean?
According to the U.S. Environmental Protection Agency (EPA), the main indoor air pollution sources release gases or particles into the air. In addition to dust and pet dander, the air in your home can carry particles from:
Fuel-burning combustion appliances
New flooring and carpeting
Everyday household cleaning products and personal care items
You can reduce—or in some cases, eliminate—these problems with an efficient filtration system.
Why Air Filtration is Essential to Quality Indoor Living
The ventilation of your home or business plays a significant role in keeping your air clean. As the EPA explains, not having enough fresh, outdoor air circulating into a space can cause pollutants to increase inside, causing discomfort and health problems. This is why proper ventilation is necessary.
A ventilation system will pull outside air into your space and send it through a filtration system that removes all the potentially harmful particles, including mold spores and other debris. This process runs on a cycle, repeating a few times on an hourly schedule to ensure the air is filtered out before it recirculates throughout your environment.
Regular Upkeep of Your Air Filtering System is a Must
Keeping an air filtering system working efficiently is important, so we encourage and provide regular maintenance for these systems. You may need annual maintenance for your home air filtration system. If you have a business, your commercial-size air filtering system may need upkeep once every quarter.
The quality of outside air in your community will also determine how often your disposable filter panel will need to be changed. We will show you what you need to do to keep your filtration system in top shape.
Our AC Specialists Will Guide You on Your Air Filtration Needs
Our specialists will advise you on what you'll need to ensure your HVAC system catches all the airborne particles you want to keep out of your home. We will also share how to keep your filtration system running at its best. Joe Hillman Heating & Cooling offers solutions for all of your air filtration needs.
If you suffer from allergies or other ailments, our indoor air quality specialists can review air purifiers and other products that can help. For example, we can install UV air purifiers to ensure that mold and bacteria do not live inside your HVAC system.
There are many benefits to having an optimally running filtration system in your home. You will have peace of mind that you are doing everything you can to make sure the air that you and your family breathes is as clean as it can be. Guarding against indoor pollution is worth the effort and investment in an air filtration system.
Unsure About What's in Your Air? We'll Test Your Indoor Air Quality
Before we install your air infiltration system, our technicians can perform an air quality test in your Davie home or business to confirm what is in your environment. Doing so can be especially helpful in situations where you haven't been able to find the source that's causing the problem. Our HVAC team uses specialized equipment so that we can tell you which pollutants are in your space. These tests are designed to detect:
Allergens
Asbestos
Bacteria
Carbon monoxide
Dust mites
Dander
Formaldehyde
Lead
Mold
Nitrogen
Pollen
Radon
Secondhand tobacco smoke
Things You Can do to Improve Air Quality Where You Live and Work
There are things you can do to address pollutants in your home or office space in Davie:
Ensure your environment maintains proper ventilation.
Bring fresh air in from the outside by opening doors and windows.
Use the exhaust fan in your kitchen or bathroom to remove pollutants and decrease moisture.
We also recommend that you clean or change your air filters regularly. Filters are important because they trap particles that you can't see. Some people change them every month, while others change it out quarterly (every 90 days) depending on the type of filters used. A clean filter also allows air to flow through freely, ensuring your HVAC unit isn't working too hard.
If you have any questions, you are welcome to ask our techs during your service consultation. Our techs are always on call 24/7 for emergency AC repairs.
Call Joe Hillman Cooling & Heating for your Davie air filtration needs
For more than 30 years, our HVAC technicians at Joe Hillman Cooling & Heating have advised South Florida residents on air filtration systems that keep the air in their homes and businesses clean. If you're ready to review how you can bring in energy-efficient air filtration to your Davie home or business, we are ready to assist you today.
We will perform the necessary tests and review devices you may be interested in—such as dehumidifiers and UV air purification devices—that support your mission to keep breathable, clean air in your space. Call (954) 283-5479 to schedule a consultation with an air quality specialist today.
Contact Us Online
WE'LL BE IN TOUCH AS SOON AS POSSIBLE. IF THIS IS AN EMERGENCY, PLEASE CALL 954-953-1795